Client Spotlights
This conservation booklet printing project is intended to help landowners understand one of the most flexible and effective tools available to conserve and protect private property — the conservation easement. Nation Ford Land Trust is dedicated to the preservation of open spaces, natural beauty, and the scenic heritage of the York County, South Carolina area. Preserving these qualities will ensure that as our home grows, it retains the qualities that have made it a wonderful place to live, work and raise a family.  The booklet is beautifully designed with lots of color and gorgeous pictures. Large margins make it attractive to look at and easy to read. The selection of 100# gloss text made the pictures pop.
Project Specs for Conservation Booklet Printing
Paper: 100# gloss text
Cover: Self cover, same as inside pages
Ink: Color
Size: 5.5 x 8.5 inches
Binding: Saddle Stitch
# of Pages: 16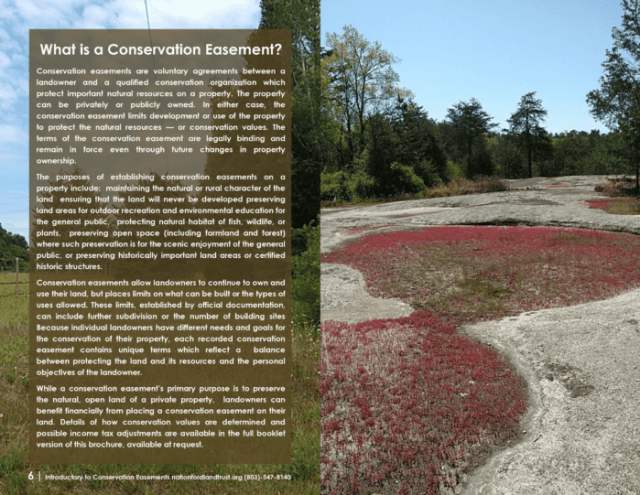 Client Review for Conservation Booklet Printing
Why did you choose Dazzle Printing?
We chose Dazzle Printing because we here at Nation Ford Land Trust thought it was the best company with the best price for NPOs. Our printing experience was smooth and thorough. The questions that were asked were easy and clear and even when issues arose during proofing, it wasn't very hard to work through them do to the easy communication with Renee. The quality of our printing came out beautifully. The colors pop in our conservation photos and the material was crisp. Yes, we would definitely use Dazzle Printing again because of our good experience. We couldn't have it any other way! We were very satisfied with the work and relationship Dazzle Printing showcased!
More Information on Conservation Booklet Printing
To learn more about the Nation Ford Land Trust, check out their website. Dazzle Printing specializes in multipage book printing, including conservation booklet printing. We offer a wide range of options, paper choices, and sizes. Check out our pricing on our instant pricing calculators if you would like to print any type of multipage document. With four different binding styles, we are sure to have an option that will work great for your printing project. Check out our great 5-star reviews!